Check logs
In this guide, you will learn how to check the communication logs on your Android device that show the communication between your Android phone and the Ozeki SMS Gateway. Viewing the events in this communication log can help you find out what happened to a certain SMS.
What is a log?
In SMS messaging, a log typically refers to a record or history of sent and received text messages, including details such as timestamps, sender and recipient information, and message content. This log can be accessed to review communication history on a mobile device or within messaging applications.
What is log checking?
Log checking involves the systematic review of chronological records or logs, often generated by computer systems or applications, to identify patterns, errors, or security incidents. This process is essential for troubleshooting, monitoring, and maintaining the integrity and security of systems.
How to check the communication log in the Android SMS client (Short guide)
To check the communication log in the Android SMS client
Download and Install Ozeki SMS Client
Configure Basic Settings
Access Ozeki SMS Client's Welcome Page
Navigate to Log Page
Scroll to Top of Log Page
Initiate Download
Select Download Location
Access Downloaded Log
Open Log File
Analyze Log Data
Check for Ozeki SMS Client Updates
Repeat as Necessary
Check the communication log (Video tutorial)
In this short video guide, we will show you the essential steps on how to check connection log details easily in the Ozeki SMS Client. The video will show you all the steps you need, from the begining to the end. In this way, it will not cause any problems to analyze your SMS data in the future. Follow the given instructions to complete the process with ease.
To be able to check the communication log of your SMS messaging, first, you need to download the Ozeki SMS Client APK file to your Android device directly from the website. Install the application, then start running. Set up basic configurations, then start using. Running the SMS Client, will show up the welcome page, where you can see the connection details, including phone number, host number, port number, username, and password to it. You can see also a summary of your sent and received text messages. If any message has failed to be sent, you will see it also in the summary part of the Welcome page.
To start the log-checking process, choose the "Log" page, by tapping on it.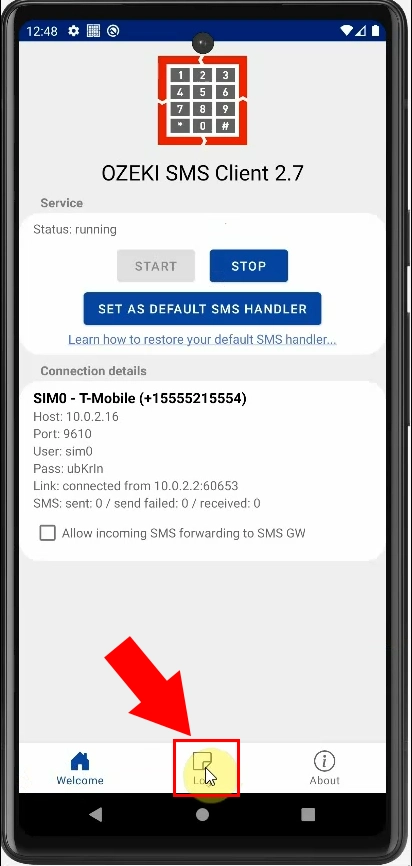 Once you are on the Log page, scroll to the top to find the "Download log" link. In this Log page, you can see all of your SMS messages. It provides information about sent and received text messages, including various details that can be useful for monitoring and troubleshooting. The "Download log" link is essential for retrieving a detailed record of your SMS communication.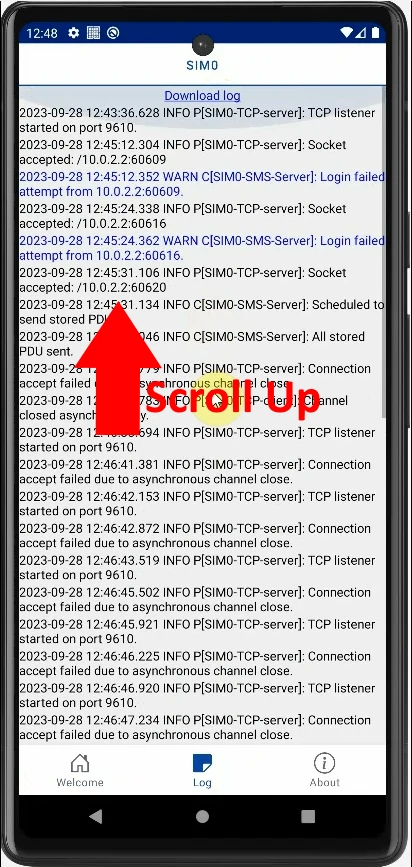 Tap on the "Download log" link to initiate the download process. The log file may be in a format like a .txt file or another standard format that is easy to analyze. Select the location of the download link where you can find it later easily. When the download is done, you will receive a notification about it, regarding your smartphone's setups.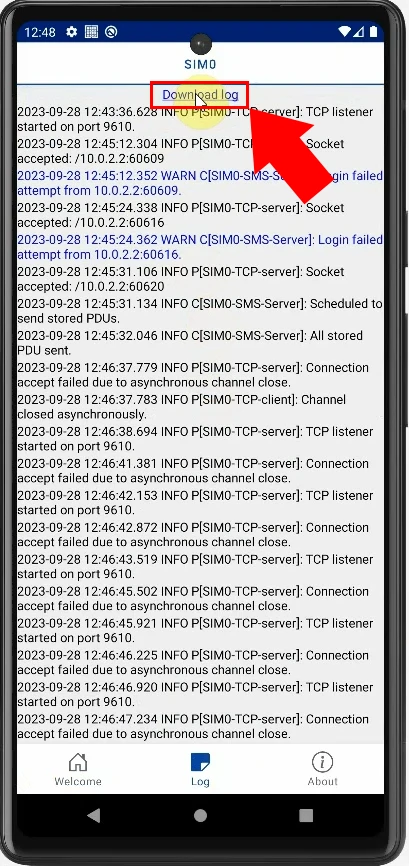 After downloading the log file, it will be saved to the directory, you have chosen previously. To access the downloaded log file, navigate to the directory you selected. On Android-based systems, the "File manager" app can handle these requests. If you do not have the exact same file manager as in the example, find your phone's own file manager application.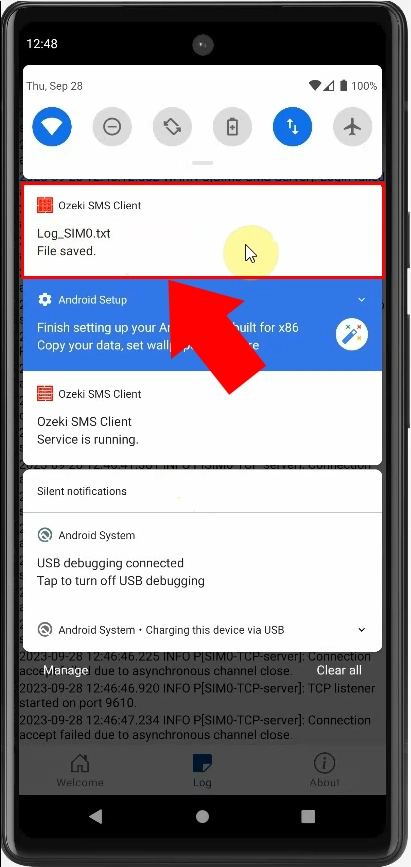 Open your file manager on your mobile phone to find the downloaded log file. The file name is easily recognizable, so you do not have to worry about that you can not find it anymore. The file is in a form that your phone can easily handle. It might be in .txt mostly. Tap on the file to open it. Your phone may offer a suitable option to view. Allow to read the file, then open the Ozeki SMS Client app on your phone. The Log page will contain these previous data, so you can analyze them without any obstacles. Each entry in the log file represents a specific SMS message and includes details such as the date and time of the message, sender information, recipient details, message status, and any error messages. Use this information to track the flow and status of your SMS communication.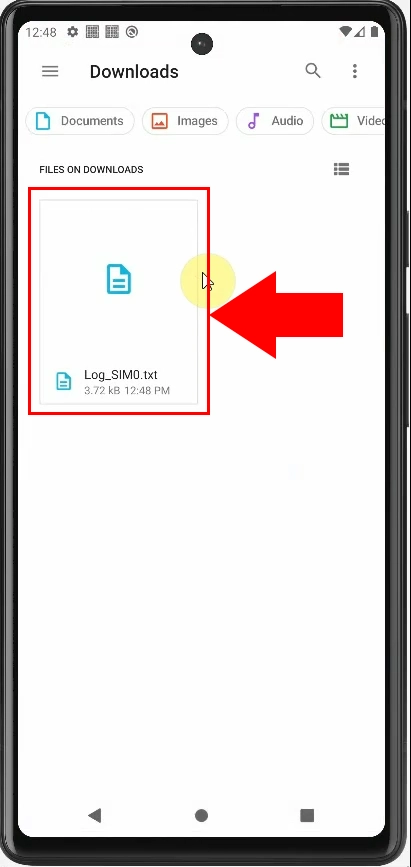 Summary
The Ozeki SMS Gateway transforms your Android device into an SMS modem, facilitating quick and efficient communication. This guide detailed the process of checking communication logs, offering insights into sent and received messages. You could learn about the significance of logs and adopt a systematic approach to log checking for troubleshooting and monitoring. The Ozeki SMS Gateway stands out for its benefits, optimizing communication processes and empowering users to maintain a seamless and reliable messaging experience on their Android devices.
FAQs
What is SMS Tracking?
SMS tracking involves monitoring and recording the progress and status of SMS messages from the sender to the recipient. This process typically includes tracking the sent messages to confirm delivery, providing details such as timestamps, delivery notifications, and, if applicable, any errors or issues encountered during the delivery process. SMS tracking is essential for ensuring the successful transmission of messages. The primary tool for SMS tracking is the SMS log file, in which data on the status of the sending are recorded.
What is SMS credit management?
SMS credit management involves monitoring and controlling the allocation of text messaging credits to users. Each sent SMS is tracked in a log file, and the corresponding SMS credit number is reduced accordingly. This log file provides a transparent record of SMS usage, helping users track their remaining credits and determine how many more SMS messages they can send within their allocated limit.
How often should I check the communication log?
Checking the communication log regularly is advisable, especially after sending important SMS messages or if you encounter any issues with message delivery. Regular log checks help ensure that your SMS communication is functioning smoothly and allow you to promptly address any issues that may arise.
Can I access the communication log from a different location or device?
Yes, you can access the communication log from different locations or devices as long as you have the Ozeki SMS Client installed and configured. The log file can be downloaded, and its location is specified during the download process. This flexibility enables users to review SMS communication logs conveniently. Depending on the settings, different log files are created, so several types of SMS log files are created. Such is, for example, the log file of SMS clients, but a separate log file can also be created for the service provider connection or SMS APIs. When setting the log file writing, we can also decide what type of log file we can create. Each user can only read their own log file. System-level log files can be viewed with appropriate permissions.